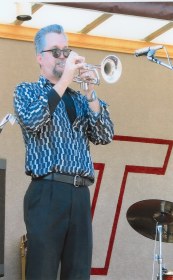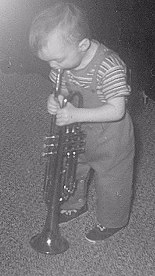 2004 1964
Trying my fathers '52 Martin Committee



I'm a 44 yr. old native Daytonian.
I've played Trumpet since the age of 8. Played throughout Grade School and High School.
Received private lessons from Kermit Simmons at Hauer Music Dayton,OH for 5 yrs.
Currently I own a '75 Schilke B5 Trumpet, and a Jupiter 846S Flugelhorn
All brass played using Jerome Callet DT-10 Acoustic Trumpet & Flugelhorn mouthpieces.
All of my Instruments are Professionally maintained by Gary Daffler, Brass Tech. at Hauer Music.
Gary has worked on the Trumpets of many traveling musicians that pass through Dayton on performances
including Doc Severinsen.
Sat in or played with several Dayton Area Big Bands - The Ron Myer Orchestra & A.J. Cummins
Swing Band. Spent 2 yrs. with High Octane "80's 90's Top 40 Dance & Show Band.
Jimmy Baker & Blues Encounter
Currently working with Jimmy Baker & Blues Encounter. A great R&B Band, with one CD currently out,
with Jimmy's original charts.
CD's 4-Sale....... $10.00 + $2.25 shipping.....